Ask Yourself...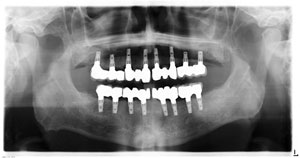 Are you one of the 70 million people in the United States missing some or all of your teeth? This can be debilitating and embarrassing because of the following reasons:
Nutrition suffers.
Your smile is unpleasant.
Your teeth have moved and fallen into empty spaces.
You cannot eat the foods you enjoy.
Your dentures slip or fall out when talking or eating.
What is a Dental Implant?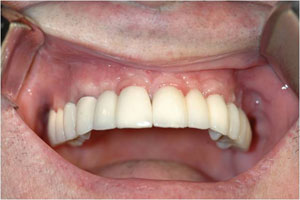 Dental implants are referred to as being substitute tooth roots or root replacements used to replace missing teeth. Dental implants are used for upper and lower teeth. They are placed within the bone and heal over a period of months to which then a crown is made and attached. Dental implants are made of the same biologically-compatible materials as artificial knees, hips or other prosthetic appliances. After the implant is placed, a period of time (usually 2-4 months) is required for it to fuse to the surrounding tissue and become anchored. A customized crown is then fabricated and attached to the implant.
Dental implants have been used for several decades. Patients of all ages have chosen dental implants to replace single or multiple teeth or even to support dentures. Dental implants give full function and support as natural teeth and are much stronger than natural or existing teeth. They are made of titanium and are compatible with the human body. Approved and tested dental implant systems are very successful.
Posterior Single Implant
The Best Option for Replacing Missing Teeth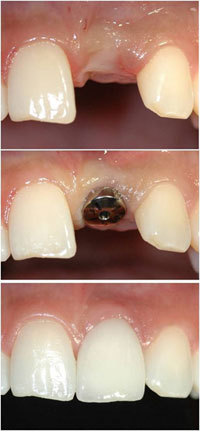 Dental implants are the best option for replacing missing teeth because they are stronger than teeth, usually permanent, don't get cavities and are the most natural replacement regarding function and cosmetics.
The advantages of dental implants over more conventional therapies are the following:
Less invasive—no cutting down of adjacent, natural teeth for a bridge
Stronger—research shows dental implants to be up to eight times stronger than teeth
Cosmetic—they look just like teeth giving a natural appearance to your smile
Less expensive—dental implant 20-year survival rates have been shown to be greater than 98%. Therefore, they are many times a one-time therapy and don't need to be replaced like conventional crowns and bridges due to cavities (expected life span is 5 years for crowns and bridges)
No cavities
Very functional— there are little to no diet restrictions with dental implants
If missing teeth or dentures are a current problem for you there is an alternative that is right for you: dental implants. Dental implants have become the best option for replacing missing or diseased teeth. A dental implant offers support and stability as a natural healthy root and the crown is the restoration that attaches to the implant, which is the closest thing to a natural tooth.
What are Some of the Benefits of Dental Implants?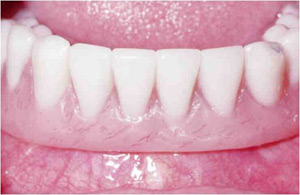 Dental implants feel and function like natural teeth. The result is increased comfort and confidence when smiling, speaking, and eating so your quality of life is greatly enhanced. If dentures and partials are replaced with implants the overall enhancement in quality of life is significant. Enjoy the ability to eat all types of foods, elimination of messy adhesives, improved speech, comfort and appearance.
Preserves integrity of facial structures to prevent premature wrinkling of the face.
Better health due to proper nutrition and digestion of food. Certain foods become a challenge to chew and are often avoided causing malnutrition of certain vitamins and minerals.
Adjacent teeth are not compromised to replace missing teeth with dental implants. Tooth replacement with traditional bridges requires grinding down teeth adjacent to the missing tooth and cementing a bridge. Subsequently, decay of those teeth and fractures of teeth become a problem in the future of those adjacent teeth. Bridges need to be replaced often due to dental caries and periodontal problems arise because cleaning under the bridge becomes difficult.
Convenience of hygiene. Taking care of dental implants is the same as natural teeth. Brushing and flossing are necessary to keep them healthy.
Increased stability and a sense of security that teeth will not fall out when eating, laughing or sneezing.
Improved ability to taste foods. Wearing an upper denture prevents someone from tasting food because the roof of the mouth is covered. With dental implants the roof of the mouth is not covered so it is possible to enjoy the taste of foods.
What is Involved in Dental Implant Procedures?
Consultation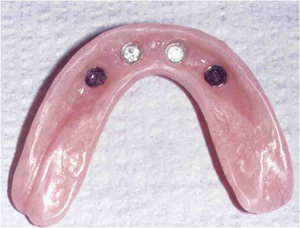 The first step is an examination and consultation to determine whether or not you are a candidate for dental implants. This involves a thorough examination of the mouth and x-rays. A review of your medical history will indicate whether any medical conditions would prevent you from being a candidate for dental implants.
Dental Implant Placement Procedure
The implants are placed in a gentle, noninvasive manner. The implants are left to attach to the surrounding tissues, or "osseointegrate", for 2-4 months typically.
Restoring the Dental Implant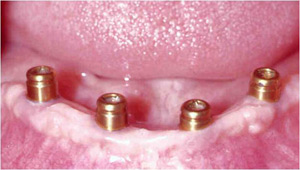 Your general dentist will take impressions after osseointegration has occurred. A post, or abutment is attached to the implant. This abutment allows for the new crown to be attached or cemented to the implant.
Your general dentist will then take impressions of the dental implant, and select the appropriate abutment shade for the new crown. Your general dentist will then place the new crown to the abutment which is connected to the implant.
If you do not have a general dentist, we work with the best dentists throughout El Paso, west Texas and southern New Mexico.
Is the Surgical Procedure for Dental Implants Painful?
Most patients report that the implant procedure causes minimal discomfort. It is not uncommon for our patients to tell us they had no discomfort following the procedure. A prescription for pain medication is given as a preventive measure to patients to be taken if needed. Most patients return to work the next day with no complications.
Socket Grafting for Dental Implants
Sinus Grafting for Dental Implants
What Dental Implant Technique Will Be Used?
We are proud to offer the most sought after dental implant procedures for our patients. Whether you need an implant to replace a single tooth or you require the placement of several implants to restore esthetics and function for multiple missing teeth (e.g., such as the newest full-arch implant replacement options including All-on-4® and Trefoil®, etc.), we can help. Our doctors have the most advanced training in implant dentistry available anywhere in the world. We specialize our treatment plans for your individual needs – no cookie cutter approach.
In the past, most denture patients' only implant option was to have a few implants placed so their denture could be more stable when they chew. The problem is that the teeth have to be taking out every night. While this is still an option, there are now advanced procedures that can be done to have a fixed option instead. Fixed options allow patients that are missing all their teeth on a jaw (or require all their teeth to be extracted) the ability to have their teeth attached to the implants directly. Imagine not having to take your teeth out at night or having to deal with the social awkwardness of removing your teeth. If you are dealing with this and want to improve your quality of life, contact us to learn more about all your dental implant options.